Arthroscopy for the Ankle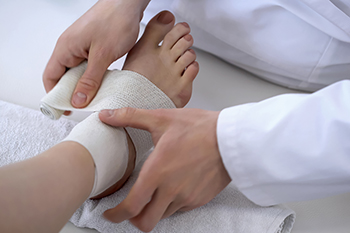 Tuesday, 12 October 2021 00:00
Arthroscopy is a "keyhole" or minimally invasive surgical procedure podiatric surgeons use for viewing and making repairs inside the ankle joint without making large incisions or performing open surgery. An arthroscope (a long, flexible tube with a light and tiny video camera attached) is inserted through a small incision into the ankle joint. The images from the video camera are projected onto a large screen, giving the surgeon a view inside the ankle to assess damage and make a diagnosis. Surgery can be performed with tiny surgical instruments that have been inserted through other small incisions. Arthroscopic surgery reduces the risk of infection, and typically involves shorter hospital stays and reduced recovery times. Make an appointment with a podiatrist to see if arthroscopy might be helpful to diagnose or treat your ankle issue
Foot surgery is sometimes necessary to treat a foot ailment. To learn more, contact one of our podiatrists of Arbor - Ypsi Foot & Ankle Centers. Our doctors will assist you with all of your foot and ankle needs.
When Is Surgery Necessary?
Foot and ankle surgery is generally reserved for cases in which less invasive, conservative procedures have failed to alleviate the problem. Some of the cases in which surgery may be necessary include:
Removing foot deformities like bunions and bone spurs
Severe arthritis that has caused bone issues
Cosmetic reconstruction
What Types of Surgery Are There?
The type of surgery you receive will depend on the nature of the problem you have. Some of the possible surgeries include:
Bunionectomy for painful bunions
Surgical fusion for realignment of bones
Neuropathy decompression surgery to treat nerve damage
Benefits of Surgery
Although surgery is usually a last resort, it can provide more complete pain relief compared to non-surgical methods and may allow you to finally resume full activity.
Surgical techniques have also become increasingly sophisticated. Techniques like endoscopic surgery allow for smaller incisions and faster recovery times.
If you have any questions please feel free to contact our office located in Ann Arbor, MI. We offer the newest diagnostic and treatment technologies for all your foot and ankle needs.