Diabetic Care Extends to the Feet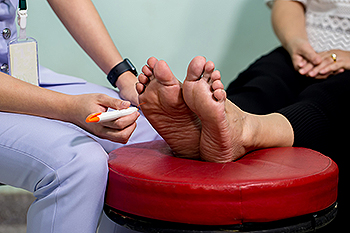 Tuesday, 03 May 2022 00:00
As many people seem to develop diabetes, it is wise to understand that this blood sugar-insulin imbalance can ultimately affect your feet. Foot complications are considered to be one of the major causes of hospitalizations for diabetics taking insulin and a big factor in the development of foot ulcers. One remedy for feet affected by diabetes is losing weight. Many experts in diabetic foot care also suggest a regular exercise program. And some believe that changing the way you eat, to include more fruits and vegetables, can help to reduce the onset of diabetic bouts. Improving foot health is extremely important, because foot infections can cause serious problems, including ulcers and gangrene. Further, it is important for diabetics to wear shoes that do not constrict the feet and socks that do not cut off the circulation in the ankles. It is also suggested that diabetics quit smoking, which can lead to cardiovascular and lung disease. Anyone with diabetes is wise to make regular appointments with a podiatrist who can closely monitor their foot conditions and offer treatments if or when problems arise. 
Diabetic foot care is important in preventing foot ailments such as ulcers. If you are suffering from diabetes or have any other concerns about your feet, contact one of our podiatrists from Arbor - Ypsi Foot & Ankle Centers. Our doctors can provide the care you need to keep you pain-free and on your feet.
Diabetic Foot Care
Diabetes affects millions of people every year. The condition can damage blood vessels in many parts of the body, especially the feet. Because of this, taking care of your feet is essential if you have diabetes, and having a podiatrist help monitor your foot health is highly recommended.
The Importance of Caring for Your Feet
Routinely inspect your feet for bruises or sores.
Wear socks that fit your feet comfortably.
Wear comfortable shoes that provide adequate support.
Patients with diabetes should have their doctor monitor their blood levels, as blood sugar levels play such a huge role in diabetic care. Monitoring these levels on a regular basis is highly advised.
It is always best to inform your healthcare professional of any concerns you may have regarding your feet, especially for diabetic patients. Early treatment and routine foot examinations are keys to maintaining proper health, especially because severe complications can arise if proper treatment is not applied.
If you have any questions please feel free to contact our office located in Ann Arbor, MI. We offer the newest diagnostic and treatment technologies for all your foot and ankle needs.