Different Types of Running Shoes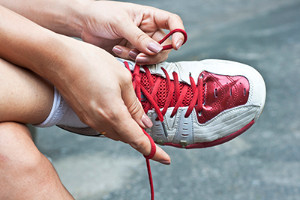 Monday, 02 March 2020 00:00
Research has indicated that wearing the right type of running shoes for your preferred style of running can provide the necessary stability for the overall body. It is helpful to decide which type of running will be practiced. People who enjoy running on roads or tracks typically choose a shoe that is made of lightweight and flexible materials, in addition to having smooth soles. Trail-running shoes are constructed with cleats on the outside of the sole, as this helps to maintain a stronger grip on uneven surfaces. When purchasing running shoes, it is suggested that the top of the shoe is similar to the shape of your foot. This can reduce excessive friction, and may help to prevent blisters from forming. If you are interested in purchasing running shoes, it is advised that you speak with a podiatrist who can help you to make the correct choice.
You should always make sure your running shoes fit properly in order to avoid injury. For more information, contact one of our podiatrists from Arbor - Ypsi Foot & Ankle Centers. Our doctors can provide the care you need to keep you pain-free and on your feet.
Choosing the Right Running Shoe for Your Foot Type
Improper shoe sizing can cause a myriad of problems for your feet. Shoes that don't fit you properly can lead to muscular imbalances in your body, which can result in foot, knee, and hip injuries.
Tips for Finding the Right Running Shoe
Make sure you have a thumb's width of wiggle room between the end of your longest toe and the front of the shoe.
There should be little to no slipping at the heel
Don't assume your size in one shoe brand will be your size in another
Do not lace up your shoes too tightly
Walk around in the store with your new shoes before you buy them
If you have any questions please feel free to contact our office at (734) 975-1700. We offer the newest diagnostic and treatment technologies for all your foot and ankle needs.